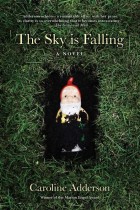 The Sky Is Falling is on the 2012 Dublin IMPAC Award longlist!  It's a thrill to be nominated along with so many wonderful Canadian and international authors.  Congratulations everyone.  The citation reads:
The Sky is Falling immerses us thoroughly and believably in the paranoia of the 1980s Cold War era. An intelligent and delightfully acerbic writer, Adderson is one of the most talented writers in Canada.
View the entire list here.