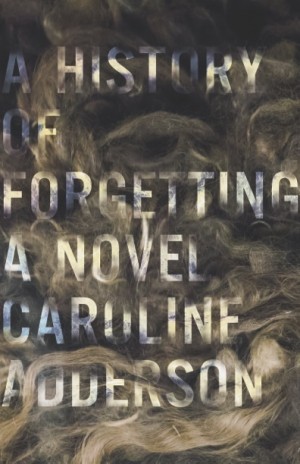 Malcolm, an aging hairdresser, whose love for his Alzheimer's-victim lover is fading fast, is too oppressed by his disintegrating domestic life to notice the world outside. Alison, his colleague, is blithely innocent; she believes that hairdressing brings happiness. Both are in their own ways blind until a colleague's neo-fascist murder unites them on an emotional journey – to the Auschwitz museum, where they are forced to confront the suffering of others, and to face the possibility of life. Unexpectedly witty, devastatingly frank, this is a brave and extraordinarily enjoyable novel by an author hailed as one of the foremost emerging writers in Canada today.
Shortlisted for the 2000 Rogers / Writers Trust Award for Fiction
Shortlisted for the 2000 Ethel Wilson Fiction Prize
Buy A History of Forgetting from Amazon.ca or find a local bookstore.
Praise for A History of Forgetting
Breathtaking … Adderson's novel is a brilliant commentary on the marketing of memories, but it reaches further, being also a sustained meditation on the nature of belief, knowledge and mutability.
—Literary Review
Beautiful … What makes this book a gem is the lyrical prose … the book draws in the reader from the first page. … This is a gentle story which gradually turns into a novel of great depth, causing the reader to mull over the issues it raises long after the cover has been closed for the last time.
—The Daily Express (Four Stars)
Arresting… [Adderson] writes with a rare understanding of human frailty… A History of Forgetting reminds us that to ignore the past condemns us to relive its mistakes.
—The London Times
Adderson is one of Canada's smart new generation of novelists [who] writes with fine precision in A History of Forgetting, which deals thoughtfully with the contemporary impact of the Holocaust…. That earnest desire for divining some profound meaning from the experience of living outside your own culture and language is a thread woven deftly through her novel.
—The Independent
Canada's funding system has gone a long way to supporting women writers like [Margaret] Atwood and there are several among the new generation of writers who follow in her tradition of astute political observation, wry humour and powerful narrative. Caroline Adderson, a Vancouver writer, has produced a stunning debut novel, A History of Forgetting, which focuses on the poignant relationship between an aging gay hairdresser whose French lover is dying and a young woman coming to terms with the malevolence of history.
—www.amazon.co.uk
Caroline Adderson's debut novel makes her definitely one to watch. Raw, beautifully written, this is a novel that connects the ordinary to the extraordinary. . . . you know you're in the hands of an author whose talent will only increase with time.
—Cover to Cover
Let me declare here at the outset that this year's winner [of the Ethel Wilson Fiction Prize] was not my first choice…. I put Caroline Adderson's absolute triumph, A History of Forgetting first…. A book that grows and lives in the mind. Her damaged and struggling people become your own to deal with as if they were relatives, and you follow them through the trivia of a hairdressing salon and eventually all the way to Auschwitz, the most relevant site in 20th century history, with that perfect sense of necessity that only a finely wrought novel can instill in you.
—Robert Harlow, Bookworld
Caroline Adderson is considered one of the four most promising new writers in Canada today and there's no question as to why. Her debut novel, A History of Forgetting, is an incredible book, shattering in its scope, virtuosity of language and sheer storytelling wonder. Don't miss it…
—The Sydney Morning Herald
There's something exhilarating about witnessing a major literary talent leave the starting gate. Critics fell over each other praising Caroline Adderson's first publication, the collection of stories Bad Imaginings. It received a Governor General's Award nomination. And now I'm falling all over her disciples in my rush to join the Addersonite throng. A History of Forgetting is even better than Bad Imaginings. ….Adderson's success comes in part from her humanism; in the book's first section, she finds patience for Malcolm's arrogance and Alison's ignorance….. [a ] beautiful book. [Adderson] intercuts the banality of salon culture with the horror of the aesthete Denis's physical and ethical deterioration…. I cannot recommend this debut novel too highly. Funny, difficult, and wise, it is unforgettable.
—The Georgia Straight
[Adderson is a] first-time novelist and writer of short fiction with impressive credentials….  Adderson revels in the opportunity to explore ambitious themes and extended metaphors. Tattoos, mirrors, petty tyrannies, the Nazism of modern life…. Skillful dialogue incorporates strands of such diverse material…. The Auschwitz visit sweeps up all the thematic hair-clippings into a tidy pile that is nonetheless an engrossing exploration of historical and personal responsibility. An ambitious stylist, Adderson experiments with voice and point of view…. Despite the gravity of the topic, Adderson's book is an enlightening and pleasurable read, a well-told story for our place and time.
—The Vancouver Sun
An award-winning Canadian writer's outstanding debut novel.
—Books Magazine (Books Choice)
a very talented writer…. It is one of the strengths of the novel that more or less innocent objects lend themselves so convincingly to obsession. Adderson has a keen eye for the symbolism inherent in certain objects – mirrors, for example, another fixture of beauty salons, are associated with a variety of meanings in the novel, and in a way that never seems forced….. Meticulously evoked and haunting quality of the beauty salon world.
—The Toronto Star
Auschwitz, gay bashing and anti-Semitism become vehicles for what Adderson is really driving at: our ability, through our imaginations, to have compassion…. Darkly funny, peopled with strong, sympathetic characters who are, somehow, able to have compassion for one another even in the midst of their own difficult circumstances.
—Loop
Adderson uses the juxtaposition [of hairdressing and the Holocaust] reverentially to show the endurance of evil and the necessity of vigilance…. Adderson's version may seem deceptively slight at first glance, if only because it doesn't dramatize the actual Holocaust. But her sensitive, straight-forward storytelling; her split-ends realism; and her touchingly precise characterizations make both past and present intimately real… accomplished and original.
—The National Post
…remarkable stylistic versatility and range of subjects in the acclaimed short story collection did suggest Adderson's art might easily fill the roomier form. And it has. This is a captivating story, wonderfully told…. [a portrait] of the outrages of Alzheimer's disease, brilliantly portrayed, hilarious and touching in turns…. Several wonderful episodes… Adderson's novel reveals a sensibility that her earlier collection did not: a writer seeking to express a moral vision. The beauty of her language and her penchant for the uncommon suggests that she will do this uniquely, as she does here
—Event
a fond, funny story… Adderson has a deft touch…this [is a] sensitive, polished novel
—The Jewish Chronicle
a startlingly honest novel…
—SHE Magazine
[A] dark and witty exploration of love and loss…
—The Independent on Sunday
In this wonderful first novel from Canadian writer Caroline Adderson, there's a lightness of touch that belies the seriousness of the subjects. With skill and wit, Addreson explores the moral implications of what we decide to remember and what we choose to forget – not just in our own lives, but in the lives of our loved ones. A moving, marvellous book.
—www.allabouteve.co.uk
This is a dark, moving and extraordinarily accomplished piece of work. Funny, sensitive and shocking.
—Glasgow Evening Times
Raw, beautifully written…
—The Canada Post
… a highly enjoyable first novel by a Canadian writer who is able to achieve the effects she wants with an uncanny skill.
—The Tablet
…extraordinarily moving… a fantastic achievement. Quite brilliant.
—Gay Times
… a captivating story, wonderfully told…
—The Malahat Review
(An) arresting first novel… Adderson writes with a rare understanding of human frailty…
—The Times of London
(an) absolute triumph
—BC Bookworld
The exploration of pain, loss and the inhumanity of the holocaust is at times, almost unbearable, but amazingly there are also moments of humour and uplift that made this a mesmeric read for me.
—www.whichbook.net
Caroline Adderson writes with a rare understanding of human frailty and her debut novel is a moving, intelligent and beautiful novel. It is shattering in scope written in gorgeous language and she is a wonderful story teller.
Questions & Answers
1. What is A History of Forgetting about?
A History of Forgetting is the story of two Vancouver hairdressers –Malcolm, an aging gay man, and Alison, a rather naïve 20 year-old — who make a pilgrimage to the Auschwitz museum. The idea for the novel came to me after reading an article in The New Yorker about the hair in the Auschwitz museum. While I knew the camps had been preserved and could be visited, I hadn't known about the room full of hair. The image haunted me and I began to think about the idea of going to the museum specifically to see the hair. Who would do this? I knew right away that I didn't want to write from a survivor's point of view, or even the children of survivors. I also didn't want it to be historical. Eventually I came up with hairdressers. Alarm bells were ringing, of course, because of the great gap between the superficiality of a subject such as hairdressing and the tragedy of the Holocaust, but I, perhaps stupidly, ignored them. It was never my intention to write about the Holocaust per se anyway. The real subject of the novel is compassion, why some people are able to feel the suffering of others, even people they have no connection to, while others can't.
2. How did you research the novel?
I read quite a bit about hairdressing, the camps, Neo-Nazism and Alzheimer's disease. I spent a day helping out in a salon, to get the hairdressing details right. Later, I visited an Alzheimer's ward. Initially I resisted going to Auschwitz itself, but realized very soon I'd have to if I was going to credibly recreate the characters' journey. In 1994 I got at travel grant to do that.
3. Describe the writing.
It took me close to six years to write the novel. While every book presents new challenges, to date A History of Forgetting has been the most difficult and painful project I've undertaken. It is in many ways a funny book, of course, but the subject matter is about as dark as it gets. I also had enormous difficulty making the transition from the short story to the novel. For the first three years I wrote as if a novel was just a very long story, perfecting and polishing the prose because I didn't know how else to work. At that time I only had Alison's story in mind. Weirdly, I couldn't even seem to see the whole book at one time. It was almost as if I were imagining it on a scroll. If I moved forward to look at the end, I couldn't see the beginning, and visa versa.
The breakthrough in the writing came when I finally noticed that I had two protagonists. In the early drafts Malcolm sort of lurked inexplicably around in the background. Once I had embraced him as a protagonist, all I had to do was figure out who he was and why he was so gloomy. One night, setting aside a book I had been reading, I noticed that I was using a packet of seeds from the Alzheimer's Society as a bookmark. Everything fell into place. I understood Malcolm that was in mourning and why. Around the same time I made a discovery about genre, though it was less an epiphany and more of a slow dawning. I realized that the short story is more closely related to poetry than to other forms of prose, and that the novel is a dramatic structure. I had written some screenplays and radio plays by then and this probably helped me recast the book.
4. Who was the easier character to write, Malcolm or Alison?
The easier by far to write was Malcolm. I felt I had more in common with a world-weary fifty-six year-old gay man than a typical twenty year-old woman. I did read one interesting book, Gay and Grey, to gain some psychological insight, but Malcom basically sprang forth fully formed, as they say, which probably means I had been doing the necessary work all along, subconsciously. I had no trouble imagining the homosexual love story. Homosexual or heterosexual, love is love. Or so it seems to me.
As for Alison, I didn't intend to portray her as completely ignorant of the Holocaust, though I suspect the world is full of young people who are. I remember hearing on the radio when Schindler's List came out, (a film that made Auschwitz look like summer camp, in my opinion), that American teenagers were sobbing in the theatre because they hadn't known this had gone on. But that is not Alison's case. There is a pivotal scene in the novel where she sees Mrs. Soloff's tattooed number for the first time. What it represents doesn't immediately register, not because she had no knowledge of the Holocaust, but because it would never occur to her that someone she knew would have lived through it. It was as remote to her as any social studies subject — the Fur Trade, or the Battle of the Plains of Abraham.
Although Alison is perhaps less interesting a character than Malcolm, it is her arc that propels the story. After the murder of a co-worker by Neo-Nazi types, and this coming on the heels of her gaff with Mrs. Soloff, she sets out to educate herself. Soon she begins to notice signs that history does not keep neat boundaries. Indeed, while I was writing the book, perhaps because I was more sensitive to the subject, I kept seeing swastikas everywhere. I borrowed a book from the library and beside a photograph of Goerring someone had written "he was a good man." Gradually Alison begins to see the world differently, particularly what goes on in the salon, which can seem a torture chamber if you look at it a certain way. While everyone around her, her co-workers and her boyfriend, Billy, grow tired of her obsession, Alison doesn't want to forget what happened to Christian, or even what happened to Mrs. Soloff. She sees the connection. She is the compassionate figure in the novel, the one with the ability to imagine another person's suffering.
5. How did your trip to the Auschwitz Museum affect the structure of the novel?
When I returned from my trip to Poland, I was overwhelmed by what I'd seen and had no idea how to incorporate the trip into the novel. Since I had to start somewhere, I simply typed out the sign posted at the entrance to the Auschwitz museum.
You are entering a place of exceptional horror and tragedy. Please show your respect for those who suffered and died here by behaving in a manner suitable to the dignity of their memory.
Because the sign is in second person, I continued on in that voice, describing the scene through the eyes of a neutral narrator who comes into the salon to have his hair cut. We see all the salon characters through his eyes; the pilgrimage is foreshadowed. I had no idea what I was going to do with it, but it allowed me to start writing again. I put it aside. Later, when Christian is killed, I realized that this very dramatic event could also be described through a second person narrator. Again, I started with the sign, in French this time, and went on from there. It wasn't until I got to the end of the book, however, that I understood that these second-person sections had a thematic as well as a functional purpose in the book. Compassion involves a feat of imagination. It asks you to get inside another person and feel what he feels. It occurred to me that by writing in the second person, I was forcing the reader to step into the shoes of these different characters and even witness a murder. The act of reading of the book became an act of compassion, in other words.
Adapted from an interview by John Metcalf published in Canadian Notes and Queries 71, Spring/Summer 2007.