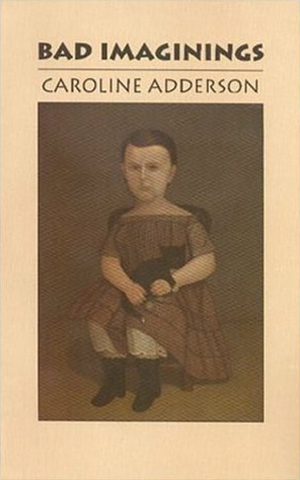 In these ten short stories, Caroline Adderson adopts a brilliant array of perspectives ranging from that of a comically effete nineteenth-century gold prospector, to a chambermaid in WWI Victoria, to two long-time friends trying to sort out feminism and the eighties. In the much-anthologized "The Chmarnyk" a beleaguered Ukrainian immigrant brings rain to the drought-stricken Palliser triangle during the Depression. The intensity of these deeply imagined stories is stunning. Her stylistic bravado is breathtaking and heartbreaking. It is rare to find such passionate and mature writing in a first book.
Winner of the 1994 Ethel Wilson Fiction Prize
Shortlisted for the 1993 Governor-General's Award for Fiction
Shortlisted for the 1993 Commonwealth Writer's Prize
A 1993 Toronto Star Christmas Canlit Favourite
A Toronto Sun, Best of Book '93
A Vancouver Sun Top 10 Book of 1993
Buy Bad Imaginings at Amazon.ca or find a local bookstore.
Praise for Bad Imaginings
…undoubtedly one of the best. The 10 stories are remarkably even in quality while ranging over radically different landscapes, from modern Ireland to the B.C. Interior during Gold Rush days. Tying them together is a quirky, sometimes harsh authorial intelligence that illuminates odd corners of identity and doubt …. [Adderson] hone[s] in on the odd and mystical in everyday life…. Bad Imaginings is the sort of book that stays with a reader long after it has been closed. A singular book, deep and mature. Caroline Adderson deserves congratulations.
—Globe and Mail
…very good indeed. In fact there is very little in Adderson's first short story collection that is not excellent…. Adderson demonstrates that she is not limited by tone, ethnicity, age, or historical point of view in her choices of topics. She writes with an assured, descriptive wit, the voice in each story is clear and direct, and the denouements are powerful. Furthermore, Adderson has created some of the most alluring opening sentences I've met in a long time…. Even better, Adderson lives up to her opening lines, taking her readers to an unpredictably seductive world where the mundane definitions of 'normal' are consistently undermined and overthrown…. Each of these stories is accomplished in its own unexpected way; I find it impossible to pick a favourite.
—Quill & Quire starred review
Astonishing….. so superior it is almost impossible to believe the author is only 30 years old…. Adderson writes from so many perspectives that she seems to pirouette over territory that few writers would dare approach…. Never marred by intentionality – the stories in Bad Imaginings implode rather than explode their narrative momentum, relying, as the greatest stories always do, on the particular qualities of the characters involved. These often funny and always adventurous stories are deeply felt and wildly imagined tributes to our own fragile, blinkered lives. And they fulfil the only real condition of art: they make you feel richer for having read them.
—The Georgia Straight
…distinctive… bristling, sparkling…. [Adderson] is a tough writer, unafraid of harsh subjects. She has a rare ability to write convincingly about male characters, about children, about sex and about conflicts between generations…. And humor occasionally glows through the toughness…. A new voice…. Original and impressively strong… [Adderson] knows how to mix an amazing variety of characters and events to make a point, clearly but never blatantly.
—Ottawa Citizen
Adderson's stylistic range is stunning. In Gold Mountain…employing an impressive vocabulary, complex sentence structures and chapter headings…she takes us back to the time of Charles Dickens. The Planet Earth, on the other hand, is a very funny account of female friendship in the 1980s which couldn't be more stylistically different. Adderson has a terrific ear for the cadences of ordinary speech…. [She] deftly captures bits of local linguistic color and custom while recounting a wrenching tale of human weakness and need…. Adderson's child characters are well-drawn, but so are her tough-talking, chain-smoking women in their 70s, her lonely teenaged girls and hotel chambermaids during World War I. Character quite obviously rates high on Adderson's list of priorities, her respect for the people in her stories and her close attention to detail of period and place give hr stories much of their strength…. Adderson's sex scenes are memorably unstereotyped….Adderson is without a doubt a writer to keep an eye on.
—Montreal Gazette
It is part of the richness of Adderson's art that…the reader can never come to any easy judgments about her characters. For one thing, they are fully alive. Adderson has the ability, essential in a fiction writer, to create with a few sentences of description or dialogue characters whose reality is vivid and unquestionable….
—Phil Marchand, Toronto Star
…extraordinary…marvellous range of voices…. Adderson's child characters are shaped as I imagine a child's true character is formed: the most momentous memories often grow out of the smallest of incidents and the greatest attention to detail…. Strong and fascinating.
—Peter Oliva, Calgary Herald
…a wide range of voices, class perspectives, time frames and stylistic modes. Adderson gives us a chambermaid in World War I, a religious prairie family devoted to miracles in the Thirties, as well as our contemporaries. She is able to deploy the voices and concerns of children wonderfully.  Her command of English is such that she can use the clear, unadorned phrases of a Quaker widow and adopt the florid sensibilities of a lonely and frightened British gold panner…with equal facility…. Great writing…. This book is packed with grace; a bargain for those who read for insight and to nourish the soul.
—Kootenay Review
…powerfully conceived, subtly constructed, and amazingly diverse in tone. Adopting the perspectives of a wildly eclectic group of characters, her prose is always fresh…. Adderson writes with a clarity that tears through the ambiguity of emotion.
—Shift
Adderson's prose is carefully distilled of anything superfluous, and is richly concrete and uncommon in its imagery…
—Canadian Literature
We know at once that we are in the presence of a writer…. An extraordinary range of expertise…The distinctiveness of these stories is astonishing. Adderson creates a compelling sense of the unknown…. She can be tender without being sentimental, frank without being crude. This is a very impressive debut indeed; Caroline Adderson is a name to be reckoned with.
—Canadian Book Review Annual
Bad Imaginings is a remarkable book. Employing language poetically, but with a sure and subtle command. Adderson constructs sentences that linger in the mind…. [She] is particularly good at capturing the cruelty of children, especially a child's inability to fully comprehend his or her actions …. Indeed, Adderson is able to render a wide array of subjects with considerable skill.
—Books in Canada
notable and surprising…. These ten stories showcase Adderson's remarkable ability to take on any subject in any time period in any location….
—Matrix
…wit, flair for language, and wickedly uninhibited perception…. These stories defy easy summary, but the are never willfully obscure and they all emit a deep emotional resonance.
— Toronto Star, Christmas Canlit Favourites
…a collection that challenges the soul as well as the intellect.
—Vancouver Sun
Beautifully crafted…
— Toronto Sun, Best of '93
… stunning…
—Paragraph
Questions & Answers
1. Tell me about your first book.
My first book, Bad Imaginings, a collection of short stories, was published in 1993 by The Porcupine's Quill. It took about eight years to write. Most of the stories in it were previously published in literary magazines as well as in Saturday Night and the Oberon Press anthology Coming Attractions '92.
2. After eight years how did it feel to finally have a real book in your hands?
Practically speaking, it was wonderful to be able to answer the question, "Are you published?" with, "Yes." Like most emerging writers, I was anxious to prove myself, but that quickly faded as I discovered the acknowledgement I had longed for was simply distracting. (It is much harder to write when you realize someone might actually read it!) Though it took a long time, I eventually got back to the place I had been before I became an actual "author". I write because it fulfils me personally. Writing is my focus, rather than being a writer. But once there is a book, the person who wrote it has to step forward as its representative, giving readings and interviews, etc. This is a duty I've never been completely comfortable with. It has nothing to do with confidence. I'm a very good reader. But I want the text to be the centre of attention, not me.
3. Who influenced the book?
I was reading more Canadian writers in this period, though my tastes remained eclectic. In 1993, for example, I read Jane Austen, Jorge Luis Borges, Louise Erdrich, Ian McEwan, Jeanette Winterson, Banana Yoshimoto, Linda Svendsen, John Irving, Nino Ricci, Amy Tan, Don Dickinson, Michael Ondaatje, Mordecai Richler, Rumi, Italo Calvino, Graham Swift, Maya Angelou, Ven Begamudre, Raymond Carver, John Metcalf, Mavis Gallant, Kent Nussey, The Dhammapada,Vikram Seth, Carol Windley, Thomas Hardy, Annie Dillard, Primo Levi, and Herman Hess, among others. I can't say that any of these writers were "influences," however. I was very much an intuitive writer in the beginning, working without much conscious application of technique.
4. There are several historical stories in the book. How did you research them?
"Gold Mountain" is set in 1861, so I used Dicken's A Tale of Two Cities (1859) as my model, noting Victorian diction and turns of phrase. I also read some nineteenth century prospector's journals to get a feel for the period and traveled up to one of the old prospecting areas on the Fraser River. For "The Chmarnyk," which is about Ukrainian immigrants in Southern Alberta during the Depression, I found an article from a 1920's edition of Folklore that described culture and folk practices in the region of Galacia in The Ukraine. I read weather lore and first-person accounts of the Depression. I also drew on details of the Southern Alberta landscape I remembered from my childhood.
"The Hypochondria Club" is set in the Empress Hotel in Victoria at the start of the Flu epidemic of 1918. I was given a personal tour of the entire hotel, from the maid's quarters in the attic to the swampy bowels underneath the hotel. Part of the story involves a séance. There is an active Spiritualist Church in Victoria, so I attended a service there and was singled out by the minister for a message from a spirit in the Beyond. Regrettably, I forget the message.
5. What is the purpose of such extensive research?
It allows me to imagine the story accurately and get the details right. As for the characters, I have never had any trouble imagining how people felt in the past. I presume they felt exactly the way we do. Circumstances may have been different, but emotions are timeless.
Adapted from an interview by John Metcalf published in Canadian Notes and Queries 71, Spring/Summer 2007.