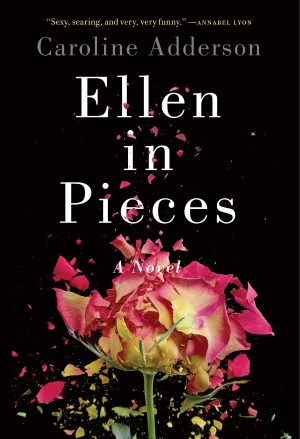 Ellen McGinty: sexy, impulsive, loud-mouthed, chock full of regrets. In middle age she sells the house she raised her daughters in, slips off the shell of her old life, and steps out for a first, tentative foray into real contentment—directly into the path of a man twenty years her junior. Her story explodes into multiple points of view. Through the eyes of her lover, Matt, her ex-husband, Larry, her two daughters (one a former addict), her grandson, and her friends, we watch Ellen negotiate her tumultuous life as the pieces of who she is finally come together. In its entirety, Ellen in Pieces explores love in its varied forms, the nature of regret (and the possibility of recovery from it), and that greatest human test, mortality.
Exquisitely written, absorbing and intelligent, this new novel by Caroline Adderson shows her at the top of her form. Ellen in Pieces is a deeply affecting story, an emotional mirror for all our lives.
Buy Ellen in Pieces from Amazon.ca or find a local bookstore.
A CBC Best Book of 2014 
A Writers' Trust of Canada Best Book of 2014
A CNQ 2014 Book of the Year
Nominated for the 2015 Ethel Wilson Fiction Prize
Gold Medal for Fiction, National Magazine Awards
Gold Medal for Fiction, Alberta Magazine Showcase Awards
Longlisted, Sunday Times EFG Short Story Award
Praise for Ellen in Pieces
[I]n her new novel for adults, Caroline Adderson slowly and exquisitely peels back the layers of her title character's unforgivably blunt and tenderly nuanced story, revealing a woman whose life is fraught with contradictions and marked by joys and tragedies. It's ultimately a story about love – the blissful, messy, uplifting, crushing, healing, selfish, and selfless love that holds people together and tears them apart.
— Quill and Quire (starred review)
Caroline Adderson's Ellen in Pieces is the novel we've all been waiting for. Me, because I've been reading pieces of Ellen in Pieces in journals and magazines for the last few years, and hearing rumours they'd culminate in an actual book, and how often are one's longings so perfectly satisfied? And you've been waiting for this book, because I promise that it's one of the best you'll read this year. Devastating, wonderful and brilliant. Because aren't you always looking for a book to apply such adjectives to? Because I've been longing to read this book for years, and when I did, it was even better than I'd hoped.
I think I fell in love with Ellen McGuinty on page one. She's the brash, remorseful, sarcastic, funny, sexy heroine of British Columbia author Caroline Adderson's fourth novel, Ellen in Pieces, the tale of a 40-something single mother whose life has not gone according to plan… Adderson excels at portraying life in all its glorious, devastating, unpredictable messiness.
A splendid novel. Earthy, funny, complex, striking with its prismatic form, and wholly absorbing, Ellen in Pieces showcases Caroline Adderson's mastery of language, tone, and storytelling as she turns her empathetic gaze to a messy, cut-short life of contradictions, missteps, and deeply felt fulfillment.
"What a force a mother is!" proclaims the narrator of Caroline Adderson's novel Ellen in Pieces. There is no irony here, and to prove it Adderson has created one of the great maternal figures in Canadian fiction, Ellen McGinty.
Ellen in Pieces nails it. Life is messy. Like time, it's unstoppable. It's a maze that plays tricks on you. It's family, friends and lovers. The past is in the present, the present is all over the place, the future problematic. It's a woman's story and a universal story.
Constructed as a series of connected short stories, Ellen in Pieces is unique, wise, funny and heartbreaking. And just in case – in the usual blur of busy days — you've forgotten, it makes you remember how very precious life is.
Adderson's writing style soon became ideal to me because she made the many perspectives and temporal shifts that she offered seamlessly flow into one another. Adderson put me in the minds of all the characters, allowing me to acknowledge the different sides of the same story rather than forcing me to accept Ellen's perception as the authority. That is why her characters are so real and relevant, because, as in real life, events and people are not as black and white as "I hate/love this", or "I am happy/sad", and that message is clearly portrayed through Ellen's life. Overall, I felt immersed in the sexy, emotional and heartfelt story of Ellen and all those in her life.
When Caroline Adderson set out to write this book, she did so with a particular goal in mind: to write a book that walked and talked like a novel but that could be taken apart into standalone stories.  Ellen in Pieces.  Ellen.  In Pieces.  She knocked it out of the park.
Ellen McGuinty is middle-aged, mouthy, charming and unforgettable. When she sells her family's home and takes a lover 20 years her junior, the lives of her friends and family become entangled in surprising ways. With its spellbinding and complex structure, this novel shows off the formidable talents of Caroline Adderson…
Ellen in Pieces is a strong book, because it feels so real. I felt myself drawn to the story and the characters, and I had no idea where the story was going to go. The book did receive some acclaim, but in my opinion, it deserves more attention that it is getting. Ellen in Pieces is a strong, honest depiction of a woman's life.
…some of Adderson's sexiest, funniest writing to date.
Caroline Adderson writes great characters, and the protagonist of Ellen In Pieces is one of them…  A page-turner with emotional depth.
— NOW 
A book of short stories about a single, somewhat loopy and frequently irritated Vancouver mom—yeah, OK, I know, sounds awfully women's magazine, right?  But it's not at all. Ellen is funny, refreshingly horny and impatient with men who are not horny enough.  And the West Coast scene described is so contemporary, the details so telling—people obsess over screenplays, pottery and long-distance cycling rehydration systems—it might even been seen as satire.  Both fun and moving…who knew this about Canlit?
 —Russell Smith, Kingwest Magazine
You will fall into this book and feel at various moments that, for a woman of a certain age, living a certain life, with or without children, Adderson has seen right into your life… There are many voices in this book, each crowding to the surface to show ordinary life at its most extraordinary. Still, the true heralding success of this novel, for me anyway, has to be the author's voice–it's rich, symphonic even, and had me from the first page. It's a rare feat these days, finding a book that can cut through my exhaustion, my own trials and tribulations of being a middle-aged mum, and bring me out the other side sad that it's over because I'll have to return to my seemingly never-ending unreading-reading state.
Ellen in Pieces, Adderson's fourth novel, uses language so skilfully, so lightly and yet fully, that it is wonderful yet somehow invisible. It dances along the line between good writing and over-writing, but what keeps it good, in other words controlled, is that any exuberance, any flourish, is always perfectly in keeping with the character…. Ellen in Pieces is one of the best Canadian novels I read in 2014.
Ellen in Pieces by Caroline Adderson is my favourite novel of 2014!  It is laugh-out- loud funny, sexy, and very moving.  The word that first comes to mind is delicious.  The novel is a gossipy treat, entertaining as hell, but at the same time brilliantly written with an unforgettable lead.
Stunning story, unbridled prose and lots of wisdom. You gotta read this!
It's hard not to love Ellen, the central character in Caroline Adderson's new novel. She's cranky, 48, not a fashion model. She has problematic kids, a suicidal dad, odd friends, a messily ongoing divorce, tons of regrets and unquenchable hope. She even gets to have a wonderful much younger lover, if only for a while…  Adderson's irreverence leavens the seriousness of the darker aspects of this narrative. A fine read, and Canadian too. Book clubbers take note!