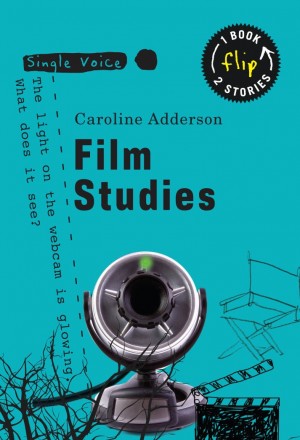 Fifteen year-old Cass is so cool she's cold. That's what people think. But she struggles to decide what role to play in life — an act that swallows her whole. It's her director father, long absent, who leaves her struggling for an identity. The one thing she knows for sure is that she's fed up with her mother's ever-changing boyfriends. Then along comes a school film project and things get strange. But so what if the boy she likes films her twirling around half naked? Her father makes porn, doesn't he?
Film Studies is part of the Annick Presss Single Voice series for teen readers, which originated with the award-winning French publisher Actes Sud. Critics in France describe the books as "… a shocking series that places voice into the heart of reading" and "you won't emerge unscathed from these little books." In Canada they are published as two separate but thematically connected stories in a "flip-book" format. Exploding with the urgency, drama and confusion of adolescence, these books will appeal to both avid and less experienced readers. No subject is off limits in the Single Voice series.
An American Library Association 2011 Quick Pick Nominee
Buy Film Studies from Amazon.ca or find a local bookstore.
Praise for Film Studies
With short paragraphs, lots of white space, edgy topics, and raw language, these two stories published in one volume will catch the attention of hi/lo readers.

– School Library Journal
Teens who love gritty, real life stories with "what if" situations are sure to like these stories.
– Canadian Materials
Film Studies was a great match for Livingston's The Trouble with Marlene… not as dark but it mirrors the situation of a daughter parenting her mother, a situation that is more common than we think.  In Film Studies, many teens will find some validation in their contradictory feelings toward their parents.
– The Unexpected Twists and Turns.com  Read the review.