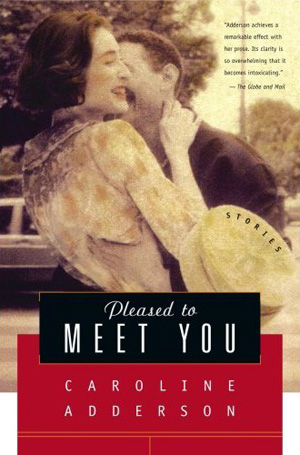 Stylistically varied and linguistically confident, these nine razor sharp stories plumb the complexities of the human heart. An insurance underwriter finds meaning in life when he inadvertently composes a poem. A great passion develops between a three year-old and an elderly Polish neighbour. A philandering photographer tries to convince his ex-wife to start over with him. These stories explore relationships, and love in its many forms, with humour and subtle irony that makes Pleased to Meet You a compelling and completely satisfying read.
Longlisted for the 2006 Scotiabank Giller Prize
A Globe and Mail Top 100 Book of 2006
A National Post Editors' Pick for 2006
A Toronto Star Best Book of 2006
Buy Pleased to Meet You at Amazon.ca or find a local bookstore.
Praise for Pleased to Meet You
Reading Caroline Adderson's prose after wading through the leaden, child-pleasing stories of our prize winners… is like being let through the door from the grey Ikea-furnished nursery into a sunlit garden full of adults… [I]t is my favourite book of the year so far, my favourite Canadian book of the past five years. Her language is so textured it's almost – almost but not quite – difficult; reading a paragraph of hers is a pleasure not unlike playing with some flashing video game. It's absorbing and delightful. I laughed out loud on several occasions and cried once.
—Russell Smith, The Globe and Mail
Caroline Adderson has a talent – or is it a trick? – for making you think there's nothing much wrong in the small worlds of her short stories. You drift along in that drugged state of literary contentment, grateful for her precise economy with language, her eye for everyday detail, her patient recording of the average Vancouverite's average life – and then something shakes you out of artistic slumber and you realize how much trouble is concealed beneath all these placid surfaces.
—John Allemang, The Globe and Mail
Adderson's Pleased to Meet You is insightful, gritty, stark, elegant and poised. Like Alice Munro and Margaret Atwood before her, she owns this genre.
—The Hamilton Spectator
Caroline Adderson is more like Carol Shields than Alice Munro in her playfulness. Pleased to Meet You is a collection of stories about odd and touching relationships that are diverted by chance encounters with poetry, Satanism, hysteria, death and friendship – among other vagaries of contemporary life.
—Elle
…Adderson was hailed as one of Canada's most notable emerging writers by the Star's Philip Marchand just a few years ago. Pleased to Meet You makes a strong case for dropping any qualifiers – just plain "notable" will do.
—The Toronto Star
… excellent reading… Nine stories, nine acts of desperate hope for the reader that are well worth taking.
—The Montreal Gazette
Though she is the author of two widely acclaimed novels, Caroline Adderson was made for the short story. Adderson has the ability to write about ordinary people in an accessible manner. It is this and her ability to take the reader on an amazing journey in just a few pages that make her one of the best writers to come out of this country.
—The Quill and Quire
The shifts of emotion Adderson is able to achieve within her stories are astonishing… Faultlessly written, Adderson's stories also reach out. By book's end we emerge feeling a little kinder, a little more inclined toward sympathy.
—The Vancouver Sun
Pleased to Meet You, Caroline Adderson's second collection of short stories, is filled with tales of touching humanity that often revolve around the quiet loneliness most people feel but are rarely able to express. Adderson's stories are haunting. Her straight-forward prose is deceptively simple, cutting through to the point in a subtle way, leaving the reader surprised to be thinking about her characters long after they've closed the book… Adderson's gift is taking people from the world and revealing secret lives that could well be your friend's, your neighbour's, or your own.
—The Calgary Herald
Pleased to Meet You …exhibits the strengths introduced by Adderson's first book; wit and a facility for dialogue, good pacing and brisk, clean prose style among them. But she demonstrates style in a deeper sense, as well. It's the kind of thing Les Murray addresses in his poem The Quality of Sprawl. 'Sprawl leans on things,' he writes. 'It is loose-limbed in its mind.' Style is in the pleasure of the telling, beyond the imperatives of what happened when and to whom. Its fun is born of discipline and attention to detail…. Adderson has set the bar pretty high. Essentially, Pleased to Meet You is an engaging and enjoyable collection of stories that display their author's considerable skill. Full of pleasurable little hooks, it proves that a good is not just about what happens.
—Karen Solie, The Globe and Mail
Caroline Adderson's second short story collection, Pleased to Meet You, is a sardonic, bulletproof literary achievement that examines the lives of the angry and misunderstood… Adderson's taut prose excludes sentimentality and yet creates characters whose interior worlds teem with emotion…One caveat: those looking for easy redemptions won't find them in this collection, but sophisticated readers will find Adderson's cruelly tender style both rich and readable.
—NOW Magazine
Adderson is a master of the short story form, and it's a great pleasure to see her return after two successful novels that followed her first collection. These are stories that can be read in the length of a subway ride, but they will stay with you long afterward. They break your world open, providing a new clarity of vision, as did the poem that so captivated the underwriter in the opening story. Pleased to Meet You is a fine collection that is worth savouring.
—Women's Post
Nine new stories by Caroline Adderson are a cause for celebration… In [her] well-wrought tales, the unexpected is the one thing on which we can rely.
—The National Post
Every story delivers just enough to disturb, delight and fascinate.
—BC Bookworld
It was almost a guilty pleasure to recognize, but not be personally experiencing, the churning thoughts I was reading. If none of Adderson's peculiar scenarios remind you of a slightly forgotten place inside yourself, you might want to open your control panel and do a little rewiring.
—Vancouver Review
Caroline Adderson has a gift with words, observations and technique…. She's already a critical success, but her career remains one to watch, and her stories ones to return to.
—The Tyee
…pure bliss.
—Guelph Mercury
Questions & Answers
1. Your first book, Bad Imaginings, was a collection of short stories. Then you spent a decade writing novels (A History of Forgetting, Sitting Practice). Why did you return to the short story form?
I was afraid I'd forget how to write them.
2. The two collections of stories are quite different. Why?
I wrote Bad Imaginings very intuitively, without much thought to structure and form. After working in the novel genre where structure is so important, I came to Pleased to Meet You with a much greater awareness of, and interest in, form. The second collection might rightly be read as a collection of various short fiction forms. I wanted to experiment. For example, in "Falling," in which an insurance underwriter inadvertently writes a poem, I tried to propel the story through language in the repetition of becauses, the way a poem might work. In "Hauska Tutustua" the story actually ends where the real story begins. I also wanted to put in as little as possible and still have a story the reader could connect to emotionally. In "Shh: Three Stories About Silence" I went even further: the cartoonist disabled by anxiety attacks thinks in cartoon panels.
3. How do you write stories?
A story idea usually develops over quite a few years. I'll think of something, make some notes. Later, another image or detail will occur to me. I'll note that, not yet realizing that these disparate images and ideas are connected. Normally, at least three odd things come together to make the story gel. In "Spleenless" for example, we really did receive a surprise visit from a friend at about 11:30 pm on December 31, 1999. He was not Manfred in the story, of course, but I did answer the door in my mouth guard and flannel pajamas. The situation was pretty comical. Over time, the character of Manfred fleshed out in my mind; he's one of those people that cut a swathe through everybody's life. You think that one day he'll realize the damage he's done and experience some remorse, but probably not, because he's got a gift for always seeing himself in the right. So there was the real-life situation combined with a writer's interest in a certain type of character. Then, just because the name Manfred sounds a bit like Man Ray, I started reading about the artist, who turned out to be remarkably like my character. Then I had the story. As usual, after the gestation of the idea, it took about two years and many drafts to get the story right.
4. Two years! That's a long time.
Very occasionally, a story comes to me fully formed – "The Chmarnyk" in Bad Imaginings and "Falling" in Pleased to Meet You are examples — but two years is average. On the other end of the spectrum, I worked on "The Maternity Suite" in Pleased to Meet You for eight years.
5. Which do you prefer writing: novels or short stories?
For me the novel and the short story are an entirely different experience. I like the novel for the way I can really get deeply into something. I love the larger frame of reference. But I'm more anxious during the writing because it takes so long before the text is any good. During the months that I'm trying to find the voice and get the story on the rails I can easily lose faith. By contrast, I love the short story for the freedom it offers. You can do anything. Even if you write it so it has to be held up to a mirror to be read, you are not asking that much of the reader to stick with you for eighteen or so pages. Also, with the short story you can squinch right up to perfection. You can get every word right. On every page of my published novels I find something I'd like to change.
Adapted from an interview by John Metcalf published in Canadian Notes and Queries 71, Spring/Summer 2007.