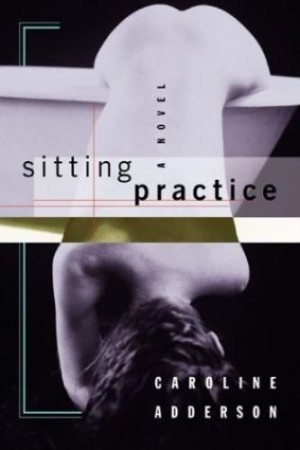 It only takes a moment for your life to change forever – as Iliana and Ross discover three weeks into their marriage when a freak car accident leaves Iliana paralyzed, Ross grief-stricken, and both of them struggling to come to terms with a married life nothing like they originally had in mind. Wheelchair bound, Iliana learns to navigate the world in a new way while Ross turns himself into possibly the world's worst Buddhist in the hope that it will help him accept things as they are. Winner of the 2004 Ethel Wilson Fiction Prize, Sitting Practice is a clever and insightful study of love's harsh collision with reality, told by an author with a remarkable instinct for the workings of human nature, a nimble gift for language, and the ability to find humour in the oddest places.
Longlisted for Canada Reads 2016
Winner of the 2004 Ethel Wilson Fiction Prize
Shortlisted for the VanCity Book Prize
A City of Vancouver Book Award Honourable Mention
Buy Sitting Practice on Amazon.ca or find a local bookstore.
Sitting Practice reading group guide at Shambhala.
Praise for Sitting Practice
Sitting Practice is a novel of substance that is a delight to read. Caroline Adderson treats the domestic drama with elegance and wit, and what she has to say about her characters and their circumstances is often profound – not to mention surprisingly funny, too. This novel is the real thing.
—Meg Wolitzer, author of The Ten-Year Nap and The Position
All of Adderson's characters are rounded and all have utility, not simply as plot devices but as part of a striving, suffering whole.
—The New York Times Book Review
… a prose style as elegant and controlled as a swallow dive. …

No one could ever accuse Adderson of timidity when it comes to subject. In A History of Forgetting her evocation of life with Alzheimer's is so acute that it hurts. In Sitting Practice, she confronts what it means to be disabled, and yet this is not a novel that's trapped, defined or even confined by its protagonist's inability to walk. Sitting Practice pulses with energy and activity… [It] makes a greedy grab for life …

It could just be that Adderson has come up with the definitive test for the putative creative writing student. 'Write an explicit, funny and touching passage in which a paralysed woman has a passionate affair with a spotty youth, while her husband wrestles with his Buddhist beliefs and falls off his bicycle.' Adderson does it so well that few could match it for skill and wisdom. When I interviewed her, she told me that we must all put ourselves in other people's shoes or we're doomed. Put yourself in her elegant, snappy, beautifully crafted shoes and you'll feel all the smarter for it.
—The Independent on Sunday
… (A) generous, clear-eyed study of love, human error and resilience… The novel's resolution satisfies hopes without undermining the tale's complexity… Quietly thoughtful with surprising touches of humour and eroticism.
– Kirkus Reviews
Adderson is unflinching in her description of disability and desire, though she retains a light touch and avoids sentimentality. Big themes such as sexuality, religion, family ties and love are deftly introduced and developed, and Ross and Iliana are so believable and engrossing that you're holding your breath for them by the end.
—City Life (Manchester)
This book will never be far from my side because its teaching is the most valuable assessment, and therefore reminder, of frailty… Confirming too, my own adage of suffering, that courage is borne on the wings of laughter.
—The North Wales Chronicle
[an] exuberant, generous take on life and love.
—The National Post
Adderson writes very well about sex and relationships, proving that all you need is a good eye for detail to write truthfully about bodies and desire … Sitting Practice is a satisfying, moving read, with characters struggling to make their lives work. I found I could see them as if watching a film.
—Big Issue in the North
Adderson paints her characters vividly, including the small supporting cast … She surprises us by presenting Iliana as a strong, pity-free spirit who shows the patience of a saint in getting her husband back to her bed.
—York Evening Press
Adderson achieves a remarkable effect with her prose. Its clarity is so overwhelming that it becomes intoxicating.
—The Globe and Mail
… pure 21st-century West Coast Breughel … this is a highly cinematic novel … Adderson can move us from the banal to the sublime in an instant. She has an astonishing ability to get inside the heads of her characters, from Ross's terminally self-absorbed sister (who's the mother of surely the most engaging three-year-old child in recent fiction) to the terrifyingly stoic Iliana. For all their fragility, these people have a heroic resilience. This is generous, compassionate writing.

Adderson's first story collection and first novel brought her a Governor General's Award nomination, prizes, and accolades as one of Canada's most promising writers. Her second novel delivers handsomely on that promise. Cadence and pacing are sure-footed, dialogue is pitch-perfect, the unfolding story utterly absorbing. This is a writer with all the talents required to keep on delivering.
—Quill & Quire
The strength of the novel lies in Adderson's ability to make Iliana's post-accident experiences both heart-wrenching and funny … a must-read.
—The Winnipeg Free Press
Caroline Adderson is a humour-tinged writer with a thing about deep, long-lasting pain. … Sitting Practice explores more enduring pain and grief – with deftness and compassion. … [It] is far from bleak. The writing is whip-smart and amusing. You care.
—BC Bookworld
Adderson is a shrewd writer, and she gets exactly right the many sadnesses that afflict Iliana and Ross's lives. The novel remains broadly comic, but the problems the couple face are only too real … The portrait of this fully realized woman [Iliana] is what the reader will long remember after finishing the novel.
—The Edmonton Journal
Compulsively readable … a truly significant exploration of the complex relationship between lovers, between pain and joy and between the physical and spiritual realms … Adderson shows her talent for mining the seam of human behaviour that binds what is both aberrant and entirely commonplace … Ultimately, this is an uplifting book, but not in the 'let's hear it for the differently abled' sense. Sitting Practice addresses how much is missed in life, how much joy deferred, or passed by, by those who are caught in their own misery.

Adderson's prose is characterized by fierce intelligence, razor-sharp wit and wry omniscience. She writes with a tone of subdued mirth or bemused wisdom that lends the book both immediacy and intimacy. In her hands, sex, religion, parenting and even something as simple as making bread come from a completely unexpected vantage that makes them seem suddenly new and strange … Margaret Atwood once cited Adderson as one of the most promising women writers of her generation. It's the kind of assertion that often seems hyperbolic but in this case seems overly cautious. We could drop the word "women," to begin with. We could now say, further, that Sitting Practice is an example of Adderson's early promise, fully realized.
—The Vancouver Sun
The plight of [Adderson's] … characters engages the reader until the last sentence … this book cuts very close to the bone in its examinations of emotions and sexuality.
—The Toronto Star
The beauty of Sitting Practice lies in its conviction that true love can endure the unendurable. At the same time, it is anything by romantic fiction in the traditional sense. While her book may have heartwarming moments, Adderson is more concerned with the importance of being in the moment, no matter what life brings … Adderson proves herself remarkably adept at conveying the point of view – and legitimate resentment – of the wheelchair-bound. Her book, rich in healing empathy, leaves us with the sobering realization that no partnership remains forever equal. Every human being is vulnerable to injury and ailment. Few spouses share an identical expiry date. That's why the contract reads 'until death do us part.'
—The Montreal Gazette
Adderson's apt diction and dead-on dialogue allow her characters to walk off the page, and whether they're dealing with denial, suffering or forgiveness, each voice is discrete, developed, and always rings true … [Sitting Practice] concerns itself with questions that plague many of its characters – faith in religion versus the freedoms of secular living; the value of prayer and meditation; whether to follow conscience as a guide when no other guide is present – without offering pat answers as to how to negotiate one's path.
—The Review
Caroline Adderson's latest novel, Sitting Practice, tells of a couple navigating new territory with awkwardness, humour and a huge dose of denial (plus side trips into Buddhism and infidelity). In the end, they learn that doing everything wrong may result in something oh-so-right.
—Chatelaine.com
A solidly good book, well worth reading for the consistently fine writing and the quirky humanness of its main characters. …

[W]hat is best about this novel is the core of tenderness at the heart of Ross and Iliana's marriage that somehow keeps them afloat even after major catastrophe. There's a certain valor in the way they carry on and keep on reaching for one another, however awkwardly. Such is the human condition, flawed yet admirable, and faithfully reflected by Adderson's finely-tuned, perceptive prose.
—January Magazine
Adderson has been widely touted as one of Canada's most promising women writers. …

Iliana and Ross are two of the strongest, most defined characters in this year's star-studded procession of Canadian fiction. … Sitting Practice is simply stunning.
—Owen Sound Sun Times
Adderson's characters surprise you, but within the bounds she has set for them. We see at startling turns in the action just what and who these people are. There's a sense that even minor characters have lives that extend beyond the confines of this novel. Her language, not strapped into the lameness and sameness that can hobble naturalist modes of writing, is quietly stylized, streamlined. Her dialogue is curt, glancing, elisive. It conveys the force of expression, sometimes eloquent, of characters whose lives are lived mainly in subtext, below their speech.
—The Malahat Review
Adderson's wrenching but finally hopeful novel begins with the split-second timing that can make or break a life, the unforeseen happening that can turn happiness into heart-break, a glowing future into a misery-laden present. It is a story of love and loss, of guilt and redemption and of the resolve of which the human spirit is sometimes capable. It is a commentary, too, on the limits imposed by family ties and on how envy and dependency are made worse by travail … Sitting Practice is a good novel and an unusual one, an impressive accomplishment from one of the country's talented young writers.
—The London Free Press
The story of a newly married couple coming to terms with a debilitating injury, this novel by one of Canada's most inventive fiction writers is both heartbreakingly sad and funny; it's also a sharply intelligent treatment of the meaning of faith in a secular world.
—Guelph Mercury
Questions & Answers
1. What is Sitting Practice about?
Sitting Practice is the story of a marriage tested by an accident. Ross Alexander, a caterer for film and television, meets Iliana, a nurse, when he has day surgery on his nose. They date, marry, then, three-and-a-half weeks after the wedding, have a tragic car accident due entirely to Ross' carelessness. Iliana ends up with a spinal cord injury, never to walk again. After the accident, the couple start life over away from Vancouver and Ross' neurotic twin sister, Bonnie, in the small Vancouver Island town of Duncan. Ross, still wracked with guilt, remakes himself as a vegetarian Buddhist, but an unfortunate side effect of his new spirituality is celibacy. Frustrated, Iliana starts an affair with a very unlikely character. Through accidents and mistakes, Ross and Iliana gradually build an honest relationship.
2.You aren't disabled yourself so why spinal cord injury?
The subject of spinal cord injury grew out of my original interest in the mind-body relationship. In the course of researching such arcane subjects as out-of-body experiences, I came across a book of interviews with women with SCI about their sex lives. To my astonishment, most of them reported that sex was better after their injury. Partly this was due to finding more sensitive partners, but mostly it was because the mind took over some sexual functioning. They had no feeling below the waist, but new, more intense erogenous zones appeared. I thought that was pretty interesting.
3.How did you research the character of Iliana?
I interviewed five women with SCI on-line over a nine-month period. They were wonderful and very frank; when I finished the book I found a woman with SCI in Vancouver to vet the manuscript for any errors and was gratified by all the happy faces she drew in the margins.
4. You seem to set your books in places you live.
Yes, all the settings in the novel – Vancouver, Duncan, and the Fraser Valley – are largely drawn from life. Ross lives in my own Vancouver neighbourhood, Kerrisdale. My parents lived for two years in Duncan. I have a good friend out in Abbotsford; in fact, down the road from her is a little tumbledown farm sitting at a 4-way stop behind an enormous placard reading The Wages of Sin is Death, just like Iliana's father. (Some things just can't be made up.) If the details are vivid it's because these are actual places I know.
5. Are your characters also drawn from real life?
Only in the sense that I draw character details from real life. Take the pig on Iliana's father's farm, for example. It is not one specific pig, but rather a composite of all pigs I have known. Sometimes I give characters my own interests – like Ross' plastic sushi collection. I don't have one, but I've always been fascinated by the macabre plastic faux food displayed in some restaurants. I admit that the character of Bryce, Ross' nephew, was modeled on my own son, who was six months old when I began the novel. So is Bryce at the start of the novel. The fictional and the real child grew at the same pace; both were three-and-a half when I finished.
6. You are more empathic toward your male characters than many female writers.
My empathy for male characters comes out of a general interest in the gender. Also, there are times when I feel sorry for men. So many find communication, especially intimate communication, difficult. And then there is that awful burden of pride. We all suffer, of course, just differently.
7. Describe the actual writing of the book.
I originally wrote Sitting Practice chronologically, thinking that the meeting of two more-or-less likeable people, their falling in love and eventual marriage, would be enough to sustain a reader's interest, but the reaction I got from my editor and a few people I showed the first draft to was that there wasn't enough of a sense of urgency in the first meandering third. So I rewrote the book starting with the accident. I had been hoping to avoid flashbacks and was able to reconcile their use by having Iliana in a coma and giving Ross nothing to do until she wakes up but mull over their courtship. That still left me with a problem: what to do with the thirty pages of wedding I was very attached to. My first solution was to stick it all at the end of the book as a symbolic remarriage. Except that thirty pages without a plot point just doesn't work. By default, I came up with the solution of dividing the wedding into four parts and placing each part as a prologue to the novel's four sections. This had the same effect of moving Ross and Iliana toward their marriage at the same time they recommit in the book. Quite by accident, it worked.
8. Food is a delicious, recurring motif in the novel.
Food in Sitting Practice, particularly meat, becomes a symbol for carnal passions. While Ross is vegetarian, he's impotent. Iliana starts her affair with Stevie Blake when he cooks her up a batch of bacon. When it seems that she's lost Ross over her infidelity, she cooks a ham for herself. He comes back and falls off the wagon with her. After they eat the ham together, they have sex for the first time since the accident. I had a lot of fun with this element.
9. Though much of it is about the aftermath of a horrible accident, Sitting Practice is a funny book. How did you pull that off?
I consider myself a tragic-comic writer. As the Buddha said, all is suffering; you might as well laugh.
Adapted from an interview by John Metcalf published in Canadian Notes and Queries 71, Spring/Summer 2007.