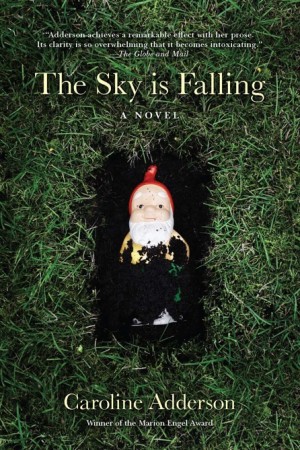 In 1984,  nineteen year-old  Jane Z. rents a room in a shared student house with a mismatched trio of idealists: Sonia, who yearns to save the world's children from nuclear war; the Marxist-leaning Dieter; and the anarcho-feminist-pacifist Pete.  A bookish misfit, Jane studies Russian and Russian literature, though her particular passion and lens on the world is the work of Anton Chekhov.  It does not take long before her radical housemates, Chekhovian in their utopian dreams and youthful pathos, , draw Jane into NAG!, a non-violent, anti-nuclear direct action group. Then Pascal, a teenage runaway, shows up and finagles his way into the already complicated household.  Sonia and Jane, so obsessed with hypothetical death, are finally confronted with it in the flesh.
The Sky Is Falling deftly intertwines themes of first love, sexual confusion, and the dread of nuclear disaster with the comical infighting of a cast of well-meaning political activists, and the timelessness of the great Russian classics.  A story for our own age of paranoia and terror, Caroline Adderson's searing, funny novel returns the reader to another fearful era, when the world teetered on the brink of nuclear annihilation and the end of world seemed nigh.
Longlisted for the 2012 International IMPAC Dublin Award
Shortlisted for the 2011 Commonwealth Writers' Prize
A Quill and Quire Best Book of 2010
A Globe and Mail Top 100 Book of 2010
An Amazon.ca Top 100 Editors' Pick of 2010
A January Magazine Best Book of 2010
Buy The Sky is Falling from Amazon.ca or find a local bookstore.
Praise for The Sky Is Falling
If you're in the habit of reading Chekhov, Jane Z. is a narrator you want to meet, with stories you really want to read… Caroline Adderson is one of the few major Canadian writers equally adept at short stories (Bad Imaginings, Pleased to Meet You) and novels (A History of Forgetting, Sitting Practice).  In both, her writing is swift and accurate, always getting just the right words in just the right order.  She's a genius at picking out small details that reveal larger traits in the personalities of her characters as they struggle to free themselves of chronically confused and confusing, anxious and anxiety-inducing behaviour.  But her writing isn't simply deft: Adderson is very, very funny, but her wit is wry, cleverly controlled: The Sky Is Falling is entertaining and insightful in just the way Jane Z., perennial student of Chekhov, wants to be seen and overheard, and it has the most memorable final chapter of anything I've read in years.
— The Globe and Mail  Read the review.
…its soul is in Adderson's tremendous wry wit, effortless dialogue, and tightly controlled characters… Nuanced, intelligent and delighfully acerbic, Adderson is one of the most talented writers in Canada now, and this is her finest novel to date.

– The Quill and Quire (starred review) Read the review.
Caroline Adderson's wonderful The Sky Is Falling will not be outsmarted… a great, smart and engaging novel that will appeal to Chekhov lovers, and make Chekhov seem appealing to the unconverted… The past and present strands of the story come together in a marvelously clever ending that both promises a brighter future, and acknowledges that the thing about the future is that it's always just escaping one's grasp.
Sometimes the past, no matter how well-buried, intrudes on the present, no matter how well-ordered. In Vancouverite Caroline Adderson's third novel, the past arrives in Jane Z.'s Vancouver home one spring morning in 2004, with a newspaper headline about the release of a 1980s' activist… In clear, clean prose that makes us wonder why all writers aren't this good, Adderson recreates the Reagan era…In this funny, deeply thoughtful tale, Adderson shows how one woman manages, given enough luck, time, and Chekhov, to balance life's pleasures with its paranoia.
—The Toronto Star
The characters in this novel are recognizable but also wonderfully realized, a mix of earnest good intentions and subterranean needs, but their story, which could have been handled as a thriller, a morality tale, a comedy of errors is made much richer and more interesting by Adderson's handling of the narrative structure… Plus, because Jane is herself a student of literature, there are many astute insights (i.e. ones I embrace) into the workings of literature and of the story itself: "The miracle of literature is that the more particular the story, the more universal." Caroline Adderson writes the way I feel. The future for her character does come, and it is not the one she expects or the one we do. You're left with the feeling that life is fraught but somehow wonderful. What more could one ask of a book?

– The New Quarterly Read the review.
Adderson, the noted author of A History of Forgetting and Sitting Practice, brings to vivid life this tale of alternative university life.  It comes complete with shifting alliances and love affairs, endless debates about gender politics, and a non-violent action group called NAG!  The Sky Is Falling is timely, a novel that reminds readers that those hazy, lazy days when we nearly blew ourselves and the planet to bits are not over.  And that "everything that was flammable within an area of three thousand square miles (of a nuclear strike) would start to burn."  It's more than just a chilling thought from a bravely conceived book.
— The Sun Times, Owen Sound
(T)he writing here is fantastic.  Arguably, The Sky is Falling is this talented author's best book so far. In the politically charged 1980s, two women make choices that will reverberate through their lives. One ends up married to a doctor, with a beautiful life, kids and a big house. The other ends up in jail. And, in both cases, it could so easily have gone the other way… Adderson's writing… as always, is self-possessed and beautiful in its clarity.
– January Magazine Read the review.
It was addictive reading, and wonderfully evocative of a period. There was a lot of plot to keep you turning pages, but also amazing description and characterizations. I loved reading this and think it would be a fruitful source for discussion in a book group. So glad I finally read something by Caroline Adderson, and now I understand why so many people were telling me to pick up one of her books!
–The Indextrious Reader Read the review.
So rare is this blend of character, setting, perspective and time, swirls of prose around a dark and weighty subject.
Ultimately, this is not really a story about political conviction and the line between legal and illegal protest.  It's about a woman's self-discovery, despite her morbid fear of the obliteration of the human race.  Jane must confront her haunting past in order to help her husband and son understand the woman she has become.  It's a recommended read in an age when being branded a terrorist (even an unwitting one) can have devastating lifelong effects.
– The Vancouver Review
The idealism and passion of young people are at the heart of the story, and Adderson makes it clear that these students had important causes to fight for… What's more, all her references to Chekhov will probably encourage readers to go back to one of the masters of narrative and human psychology.
— The Vancouver Sun
What a great title for this novel whose characters are so well defined!  And written by an author whose language is rich and precise…. Caroline Adderson's latest work is truly a Canadian novel…

– Book Club Buddy
provocative and readable.

— Winnipeg Free Press
Caroline Adderson's book The Sky is Falling was a book that described the activist world so perfectly that I couldn't help but fall in love with it….  I loved it because it accurately captured a sub-culture that I am familiar with, and showed these people in a way that was believable while being funny and witty. The book deals with serious issues, but it's hard not to find humour in this book. The Sky is Falling will cause readers to think about their idealistic and foolish selves, while examining how passion about a cause can make people act in ways that can be harmful.

—Grand Prairie Daily Herald-Tribune
The Sky is Falling is an incredible novel. I was drawn into this book right away and couldn't get my mind off of it… [It] may be about the past, but it parallels our post 9/11 world so wonderfully that it will have your mind working well past when you've turned the final page. I highly recommend this book and am sure that this will be one of my favourites of the year.
– Curled Up with a Good Book and a Cup of Tea  Read the review
Adderson's depiction of her protagonist's transformation from unworldly wallflower to ambivalent participant in anti-nuclear actions is captivating. From the fraught household meals to Jane's romanticism and her earnest donning of contradictory viewpoints and identities, the novel ably captures the volatile dynamics of personality evolution. The addition of comic elements—reminiscent of the ludicrous squabbling activists of Margaret Atwood's Lady Oracle—is a welcome counterbalance to the build up of interpersonal (ideological and sexual) conflicts.
— Canadian Literature
Questions & Answers
1. Describe the genesis of your novel.
When I turned forty a number of years ago – the prime age for a look back — I found myself reflecting on two contrasting periods of my life. One was my early twenties when I was at university and a passionate anti-nuclear activist utterly convinced that the world was about to end unless I, personally, pitched in to prevent it from happening. The other was when I was fifteen and diagnosed with thyroid cancer. It struck me, in middle age now and a fairly objective observer of my own past, as quite interesting that I actually never felt imperiled as a teenager despite having a potentially life-threatening disease, yet I was so anguished as a young adult about our theoretical death. How our sense of mortality changes at different ages became one of the ironies in the novel. Pascal, who is a sixteen year-old with cancer, engages so completely with life that his own situation doesn't even register. On the other hand, Sonia and Jane, who are both nineteen, are so focused on nuclear war that they are, practically speaking, scared to death.
2. Sonia and Jane's friendship is the main relationship in the story. Tell us about it.
Jane meets Sonia when she moves into a shared student house. Jane, who is essentially friendless and has had no sexual experiences of any kind, easily becomes confused by the love she starts to feel for the intense, emotional Sonia. This part of the novel is set in the 1980s when feminism was so dogmatic and homosexuality still a shocker. What Jane is actually feeling is commonly known as "the girl crush". Apart from Colette and, of course, the greatest chronicler of the phenomenon, Tolstoy, I'm not aware the girl crush has been much explored in literature.
3. Where did you come up with Peter English?
Part of what I love about being a writer is taking on characters very different from myself even when it involves getting in the psyche of someone I wouldn't necessarily want to know in real life. Pete is the resident anarchist in the house, brilliant, sexy and highly principled, though some of his principles seem self-serving, like his insistence on free love. With Pete, everything gets questioned. This, of course, comes off as a challenge to a lot of people, one of them Dieter, the fourth housemate. So a "male" dynamic is playing out in the house between Pete and Dieter at the same time as Sonia and Jane's particularly "female" one. It results in much of the tension in the house and reflects the notorious in-fighting of the peace movement. For me, the writer, it was hugely fun to filter everything that happens through Pete's very rigid – though sometimes admirable – credo.
4. What is the relevance of Russian Literature to the novel?
Jane studies Russian language and literature. Her great loves (and mine, I might add) are Chekhov, Tolstoy, and Turgenev. Chekhov in particular informs her view of the world. In his stories and plays he writes about students and radicals, ennui and discontent. The political climate of late 19th and early 20th century Russia seems so strikingly similar to the 1980s that his work sings with universality and relevance. I love how Jane uses the stories to understand the new people in her life. Sonia is like Anna Sergeyevna, "The Lady with the Lap Dog," Pete like Misail, the idealistic narrator of "My Life," and Jane herself like the awkward and pathetic Staff-Captain Ryabovich from "The Kiss." Studying Russian is also how she ends up in the direct-action group. During the Cold War, taking Slavonic Studies (which I did) felt a bit subversive. Russian equaled Communism equaled evil. Sound familiar?
5. The novel is set both in 1984 and 2004. What is your reason for this device?
The Sky Is Falling is essentially an historical novel, even though the historical time it presents is not that long ago. For historical fiction to be really relevant, I think it has to cast light on our present world. What I'm doing with the two time periods, I hope, is making this light shine brighter for readers who might not see the point of a novel about an obsolete political movement. Yet there are so many interesting parallels between now and the 80s. When 9/11 happened, it was the first time people who had been born after the Berlin Wall fell felt the magnitude of fear we lived with daily in the 80s, or denied. The aftermath of 9/11 has been "the war on terror", which has neatly replaced the Cold War, "terrorist" being the new dirty word, instead of "communist". And this awful truth: in 1984 there were more than fifty thousand nuclear weapons both threatening and, purportedly, protecting us. Where are they now?