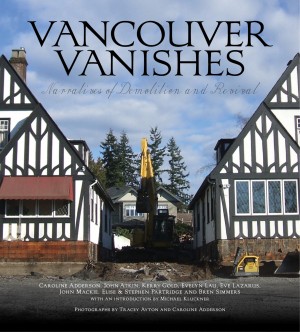 Since 2004, more than 10,000 demolition permits have been issued for residential buildings in the City of Vancouver.  An average of three houses a day are torn down, many of them original homes built for the middle and working class in the 1920s, '30s and '40s. Very few are deemed significant enough to merit heritage protection, but they are part of our heritage nonetheless and their demolition is not only an architectural loss.
When these homes come down, a whole history goes with them—the materials that were used to build them, the gardens, the successive owners and their secrets.  These old houses and apartments are repositories of narrative.  The story of our city is diminished every time one disappears.
Buy Vancouver Vanishes from Amazon.ca or find a local bookstore.  Join the Facebook page.
Six months on the BC Bestseller list
Nominated for the 2016 Bill Duthie Booksellers' Choice Award
Praise for Vancouver Vanishes
Spearheaded by Caroline Adderson, Vancouver Vanishes: Narratives of Demolition and Revival is a shared attempt to document and protest the rampant destruction of perfectly fine family dwellings in Vancouver for no reason other than speculative profit… As a novelist, Adderson contends suburban renewal is tantamount to a loss of shared narratives. Even if that perspective seems a tad airy-fairy to you—Hey, don't those new mega-houses, often owned by folks from afar, constitute the growth of new stories in other languages?—it's a lot more difficult to debunk her contention that wide-scale destruction of wooden houses is antithetical to the conceit of Vancouver City council to make Vancouver into the greenest city on the planet.
There is a haunting feel as you flip through its 160 pages, like reading obituaries, with page after page featuring the "faces" of magnificent vintage Vancouver homes, each with the same succinct epitaph under the photograph: Address, year built, name of first owner and one word: DEMOLISHED… If the book does anything — at the very least, it's a gorgeous but troubling commentary on the disposability of our young city's architectural history — she hopes "it makes people think of the deeper value of these houses, not just as real estate, and to really reflect on what we are losing." Because if we continue with the foolishness, "we'll be a city of no layers."
It includes a series of essays, "Narratives of demolition and revival," which are sometimes analytical, providing historical context, and other times deeply personal. The authors include a number of Vancouver historians, journalists, homeowners and one poet — Evelyn Lau.  And it comes complete with photos — before and after — of some of the more notable vanishing species; the results of the 10,000 demolition permits the city has issued since 2004.  In all, it provides a most useful contribution to the increasingly anxiety-ridden conversation that continues to grip this town over the subject of housing; that essential human need that is proving increasingly elusive for many of us who grew up here thinking it was simply a given: My grandparents had a place to live they could afford to own or rent, as did my parents, and so should I.
Now [Michael Kluckner] has written the introduction to a less angry but even more despairing book,Vancouver Vanishes: Narratives of Demolition and Revival, in which a broad spectrum of local writers bring love and logic to the rapid disappearance of our domestic architectural heritage.  Family housing from the years between the world wars—in styles such as Queen Anne, Craftsman, and Tudor Revival, not to mention simple vernacular dwellings, homespun and handmade—is disappearing rapidly because the lots are so alluring to callous developers who make fortunes from cramming larger (often soulless) buildings into the vacant spaces they have created. In 2013, for example, 866 old houses were taken to pieces and hauled to the dump.
With affordable housing in the Metro Vancouver region now a daily topic of discussion, Vancouver Vanishes – Narratives of Demolition and Revival by local novelist Caroline Adderson is a formidable addition to the conversation…  The book sadly is also the canary in the coal mine, as the two saved houses on the books cover are small consolation for the 83 on the back of the book that have been demolished, which the author lines up mugshot-style next to their piles of rubble, post demolition. It is also a reminder, as its title indicates, that this is happening right before our eyes, as one reads these very words, and that perhaps it is not yet too late to stop our region's 'storybook' homes from all but disappearing.
— Spacing
—Listen to Vancouver Vanishes on CBC Radios North by Northwest, 22 November, 2015
—Listen to Vancouver Vanishes on The Commentary
—Listen to Vancouver Vanishes on This is Lotusland
— Watch Vancouver Vanishes on Global News, 22 November, 2015